Cleanse & Glow™ Transforming Gel Cleanser
About this cleanser
Reveal luminous, glowing skin in just 30 seconds with Cleanse & Glow™ Transforming Gel Cleanser.
Deeply cleansing, this melting formula transforms from a luxurious gel, enriched with natural micelles, into a lightweight oil to effortlessly remove SPF, dirt, pollutants and make up, before rinsing off as a skin-softening milk to rinse away impurities without undoing skin benefits.
Powered by ingredients expertly selected for their efficacy: acerola cherry, bursting with fast-acting, brightening vitamin C; plus, organic black bee honey and elderberry seed oil, for instant skin-smoothing results.
Cleanse & Glow™ Transforming Gel Cleanser
Discover more
*Discount code WELCOME applies on full-size products only and excludes treatment vouchers, One Day offers, Spring Into Radiance Collection and The Scent of No.15 Collection. 20% discount will be applied when you enter the code to your basket prior to checkout. The discount code can be used when you place your first qualifying order only. For full terms and conditions click here.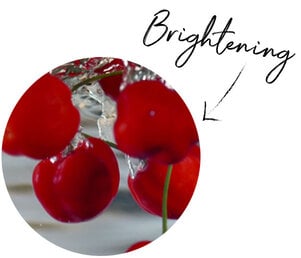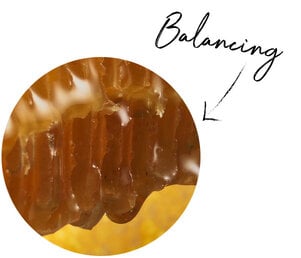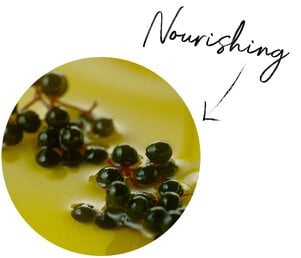 Caprylic/capric triglyceride, Glycerin, Aqua (water), Safflower seed oil polyglyceryl-4 esters, Sucrose stearate, Sucrose laurate, Sambucus nigra seed oil, Butyrospermum parkii (shea) oil, Prunus amygdalus dulcis (sweet almond) oil, Malpighia glabra (acerola) fruit juice, Tocopherol, Zymomomas ferment extract, Mel (honey), Maltodextrin, Limonene, Linalool, Geraniol, Citral, Citronellol, Parfum (fragrance).
Rated

5

out of

5
by
Jules M
from
Lovely and Fresh
As I have to be careful what I use on my face, I wanted to give this Cleanse & Glow a try - a summer treat. It smells gorgeously fresh and so gentle on the skin.....up to now it hasn't affected my sensitive dry skin. As you need to use a little at a time, it's certainly good value for money. Would definitely recommend it.
Date published: 2023-09-18
Rated

5

out of

5
by
PinkPetal
from
Gentle and gorgeous light fragrance
Gentle cleanser used every morning in the shower. A wonderful process of watching it turn from a gel to creamy liquid. Feels gentle but effective. Does not dry out my skin and has a subtle gorgeous scent. I ran out of it for two days and really noticed a difference. I follow this up with the Cleanse and Glow Illuminating Gel Moisturiser. A great morning routine leaving me feel fabulous!
Date published: 2023-09-10
Rated

5

out of

5
by
LaurenDale
from
Even better than cleanse and polish
Perfect cleanser, gel, to oil to milk. I am on my third tube and have (almost) replaced my usual routine of hot cloth cleanser with this, love it! Throughly cleans without stripping, skin feels soft and improved texture over time.
Date published: 2023-09-10
Rated

5

out of

5
by
MGN1
from
Effective and easy to use
This is the perfect facial wash under the shower, in my case, in the morning. There's no need for a muslin cloth, just your own hand. It comes off readily, has a good scent and leaves the face clean. Pleasant to use, affordable and effective.
Date published: 2023-09-09
Rated

5

out of

5
by
Mazbel
from
Great cleanser
Cleanse and glow does exactly what it says on the label, it goes on easily and rinses off when it turns to a milk.It leaves my skin feeling fresh and soft.I would highly recommend this product and it is very economical as a little goes a long ways
Date published: 2023-09-08
Rated

5

out of

5
by
Spagirl277
from
Great product
I lovd all Liz Earle products and this cleanser is different but gives my skin a lovelg glow.
Date published: 2023-09-06
Rated

5

out of

5
by
Maiainbenamma
from
Love it and service is fantastic
Brilliant cleanser and toner ....need more of this range
Date published: 2023-09-05
Rated

5

out of

5
by
BeccaBoo
from
Feels and smells amazing
Thought I would try the glow collection after using the original cleanse and polish for the last 16 years. I am 30 and my mum got me hooked and I won't use anything else. I love that it is all natural ingredients but as for this specifically, the feel of the gel in my skin and then melting into a creamy milk consistency while massaging it in encourages me to massage for longer, I have found my new favourite.
Date published: 2023-09-04
Rated

1

out of

5
by
Garden gal
from
Gel to milk cleanser does not glow
As a devotee of cleans and polish since it's launch in the late 90's, I thought I would give cleanse and glow a try. Sadly very disappointed. firstly it doesn't remove eye makeup as efficiently as it's predecessor. But worst of all, it leaves my skin feeling tight and dry like a cheap cleansing milk from the 70's Not for me…
Date published: 2023-09-03
Rated

4

out of

5
by
Treacle1
from
Great luxurious cleanser
Bought as a 'try and see' product. Loved how it left my skin…smooth and hydrated. Sadly the tube split before I'd finished it. Was it a one off? I bought a second tube as I liked the product but that did exactly the same…probably won't buy again!!!
Date published: 2023-09-02
Rated

5

out of

5
by
Lurich
from
Warming soothing glow
I love this product it's like magic how it warms in your hand and smooth gel across your face then becomes a cleansing milk. It's like having an expensive facial in the comfort of your own home . I love it
Date published: 2023-08-31
Rated

2

out of

5
by
Holly21
from
Interesting
I had this as a free gift after buying usual products from John Lewis. I was looking forward to trying a different product and was intrigued by the gel to lotion formula. Sadly, I didn't get on with the product at all. I found it messy to use. I tried applying differing amounts of gel and damp to wet cloth to remove but couldn't find a pleasing method. I didn't feel I 'glowed' any more than usual and needed a good application of toner for my skin to feel clean. I shall stick with my tried and tested Cleanse and Polish which I have been happily using for eighteen years and am really pleased with the results.
Date published: 2023-08-31
Rated

5

out of

5
by
Luxon
from
Face wash game changer!
My favourite face gel/wash I have ever used. Massaging the gel in to a dry face before it turns to dreamy silky oil with the heat and then wash off with warm water. Face washing game changer!!
Date published: 2023-08-30
Rated

5

out of

5
by
Moggie lover
from
Brilliant Cleanser 😊
Amazing cleanser! Leaves my skin radiant, refreshed and not overdry. When you rub it into dry skin it turns from a gel into an oil and then into an milk after you massage water into your skin.
Date published: 2023-08-27
Rated

5

out of

5
by
PlymouthNewbie
from
Embrace the change!
I got this as part of a kit - which included the toner (I highly recommend the gorgeous toner). Initially, I didn't like the oil to milk faff, as I ended up splashing water all over the place. However, don't give up - the massage part of the cleanser is the absolute best part. I've always loved original C&P because I believe that facial massage is beneficial - with this gel cleanser it's on another level. Massaging the gel into your skin, feeling it warm up, really wakes me up in the morning and I can feel my face responding (I also use at night). I didn't enjoy throwing water on my face - so have gone back to gently removing the gel with a wet flannel - so you get a bit of the milk texture, but it doesn't go everywhere. I wouldn't use this to remove eye make-up - it can sting a little bit. You can't beat C&P for removing eye make-up. But, for non make-up wearers - go for it! For someone absolutely wedded to C&P this has been a revelation.
Date published: 2023-08-25
Rated

5

out of

5
by
Poppymax
from
Love thus product
I really like this product, leaves skin looking so healthy and glowing, I just have to be careful that I don't get it in my eyes as it does sting slightly something I have never had with cleanse and polish.
Date published: 2023-08-21
Rated

5

out of

5
by
Nicknamesareapain
from
Luxurious
Excellent product, which I enjoy using a couple of times a week. I've bought this a few times now and have also given it as a gift.
Date published: 2023-08-18
Rated

5

out of

5
by
Miss Hils
from
Another Great Product from Liz Earle
I have been using this product for about 9 months and alternate with the hot cloth polish cleanser, use the hot cloth in the morning and gel in the evening. Like the polish leaves your skin feeling clean and silky soft.
Date published: 2023-08-17
Rated

5

out of

5
by
Anonymous
from
Lovely glowing cleanser
Have used Liz Earle products for a long time but prefer this cleanser.
Date published: 2023-08-16
Rated

5

out of

5
by
Fanforever
from
Everything is Awesome
I love the smell of this product, along with the gentle gel to cleanser. It doesn't take a whole lot and my face is clean and soft. It doesn't dry my skin at all and I can use it everyday
Date published: 2023-08-13
Rated

5

out of

5
by
Pamela
from
Cleanser
Easy to use makes skin lovely & soft also gives a nice glow
Date published: 2023-08-06
Rated

5

out of

5
by
LaineyH60
from
Great Cleanser
Great cleanser. It cleans great and leaves my skin feeling moisturised and soft.
Date published: 2023-08-05
Rated

2

out of

5
by
Scooper21
from
Not as expected
I've been buying Liz Earl products for years. I tried this cleanse and glow and really didn't like it. It felt unnatural to put oil on my face even though it turned milky on contact with water. Will stick to normal cleanse and polish.
Date published: 2023-08-05
Rated

4

out of

5
by
MIND
from
New liz earle treat
Bought this as I had wanted a change from cleanse and polish. Left skin feeling moiturised and def a little glow.
Date published: 2023-08-04
Rated

4

out of

5
by
Susie76
from
Lovely face wash
Lovely face wash makes your skin feel refreshed & clean & smells good to would recommend
Date published: 2023-07-31
Rated

5

out of

5
by
Feather
from
Liz Earle cleanse and glow transforming gel cleans
It's amazing. Lovely smell and my skin really likes it
Date published: 2023-07-30
Rated

5

out of

5
by
Su999
from
Avid user and fan!!!
Love this after using g cleanse and polish for over 25yrs I tried this...its fabulous smells yummy and feels divine on your skin...ouse the toner and moisturiser highly recommended
Date published: 2023-07-26
Rated

4

out of

5
by
Anti D
from
easy to use
have been using this product for couple months now. like how easy it is to use. have noticed a difference in my skin, looks less dull
Date published: 2023-07-20
Rated

5

out of

5
by
Lisa K
from
Liz Earle Cleanse and Glow TransforminGel Cleanser
Beautiful product, love the smell and consistency.
Date published: 2023-07-20
Rated

5

out of

5
by
Windi 2
from
Lovely
Skin feels really fresh lovely smell skin feels really nice
Date published: 2023-07-10
bvseo_sdk, dw_cartridge, 18.2.0, p_sdk_3.2.0
CLOUD, getReviews, 6ms
reviews, product
Can the cleanse and glow be used as a face mask? I have used Tamoxifen for ten years now and now have really dry patches where the skin flakes off. Only your Superskin for dry skin seems able to put it right. Might this gel also help?
I have used the cleanse and glow as a face mask. It lathers up pretty well. You could try it as a face mask Sorry that I can't be more helpful Bea
Date published: 2023-09-22
What is the difference between this and your cleanse and polish? Can I use this morning and evening and will it remove makeup? I prefer this to messing about with cloths, even though it gets great reviews Thanks Diane
Thank you for your question. Our Cleanse & Polish is a two-step cleanser that requires a cloth to remove the product and gently buff the skin. This cleanser has a creamy texture and offers a rich and deeper cleanse to reveal clearer-looking skin. Whereas our Cleanse & Glow has 3 textures (gel to oil to milk) and is a one-step cleanser that does not require a cloth and you can simply remove it by splashing your face with water. This cleanser delivers instantly brighter and radiant-looking skin. Both are ideal for all skin types including sensitive skin can be used to remove makeup and around the delicate eye area. If you prefer the convenience of a one-step cleanser you may wish to give our Cleanse & Glow a try. Please be assured that we have a great 60-day returns policy in place which gives you a great opportunity to try this at home, and if you are not a fan of it you can return this to us for an exchange or refund. It may also be helpful to know that we have two matching products with a great 25% saving via our Customer Care Centre for the whole of June that will complete your glow routine. The Smooth and Glow Exfoliating Tonic delivers instant luminosity and hydration and helps reduce the look of pores, and our Revitalise and Glow Gel Moisturiser delivers longer-lasting hydration, nourishes the skin, and delivers radiance whilst helping speed up cell renewable for a refreshed appearance. If you would like to take advantage of this extra 25% saving or learn more, call the team on 01983 813913- lines are open 9am – 6pm Monday to Friday, excluding bank holidays. Hope this information helps. - The Liz Earle Customer Care Centre Team.
Date published: 2023-06-12
Is cleanse and glow range non comedogenic please?
Yes
Date published: 2023-03-17
Can this be used on eyes 
Thank you for your question. We can confirm that our Cleanse & Glow can be used around the eye area to remove eye makeup. However, if you wear heavy or waterproof eye makeup, you may find Cleanse & Polish more suitable for your needs. Alternatively, our Eyebright Soothing Eye Lotion can be used before or after your facial cleanse to help remove remaining traces of eye makeup. We hope this information helps. Quality and service are at the heart of everything we do, so please do not hesitate to email us at naturallyactive@lizearle.com or call our customer centre on 01983 813913 if we can be of any further assistance. - The Liz Earle Customer Centre Team.
Date published: 2023-03-03
My skin is very dry after having covid19. I've been using cleanse and polish for years. Would this help me?
I have quite sensitive skin and don't find this drying at all. Unlike foam cleansers it doesn't lather up on your skin and rinses of as a mild milk. I'd recommend trying it.
Date published: 2023-02-17
Hi I've read a lot about double cleansing (in Caroline hirions skin bible!) and currently use cleanse and polish . Would you recommend this for a double cleanse or just a nice addition instead of cleanse and polish sometimes ? 
I feel its nice to change your skin products so i do a few weeks with 1 and then switch back to cleanse and polish..
Date published: 2023-02-24
There are so many products now I find it very confusing. Does this replace the normal cleanse and polish or should it be used in addition? If so, how often? 
I find this works better for me if I use it in the morning to wash of any creams/serums I've applied overnight. Not enough to remove my make up at the end of the day as I don't think it would clean my face enough so I get a better cleanse with the cleanse and polish of an evening. It's a quick new addition to my skin routine for the morning and does leave my skin feeling plumped and glowy which would be lost on my pillow if I did use this of an evening . I have maturing sensitive skin, pro biotic range bought me out in tiny red spotty rashes so avoid now at all coats but cleanse and glow is so far OK .
Date published: 2023-02-24
Is this suitable for someone With roseaca prone skin?
Thank you for your question. This cleanser has been tested on, and proven to be suitable for, sensitive skin. However, if you have sensitive or rosacea prone skin, we recommend doing a patch test with any new product, applying a small amount to your inner elbow and leaving for 24 hours to test suitability for your skin before using on your face. If you do not find Cleanse & Glow™ suitable for your sensitive skin, our Pro-Biotic Balancing Milk Cleanser may be a better match for you.- The Liz Earle Beauty Co Team.
Date published: 2022-06-08
bvseo_sdk, dw_cartridge, 18.2.0, p_sdk_3.2.0
CLOUD, getContent, 6ms
questions, product